CHARITY BEER FESTIVAL at THE AVIATOR
10th August 2019
CHARITY BEER (AND CIDER) FESTIVAL,ORGANISED AND RUN BY THE ROTARY CLUB OF MINSTER ON SEA WITH KIND COOPERATION AND PERMISSION OF THE OWNERS OF THE AVIATOR PH .LIVE MUSIC THROUGHOUT THE DAY, AND BBQ BURGERS ETC AVAILABLE.REAL ALE AND CIDERS AT THE BEER TENT , PURCHASED BY PRE PAID TICKETS AVAILABLE ON THE DAY( £10 /4 PINTS FOR REAL ALE £10/3 PINTS CIDER). OTHER DRINKS CAN BE PURCHASED AT THE AVIATOR. RECOMMENDED TO USE TAXIS OR PUBLIC TRANSPORT , NO PARKING ON SITE. SECURITY CHECKS( BAG SEARCH ETC ) AT ENTRANCES.
The event will take place between 12pm - 10pm.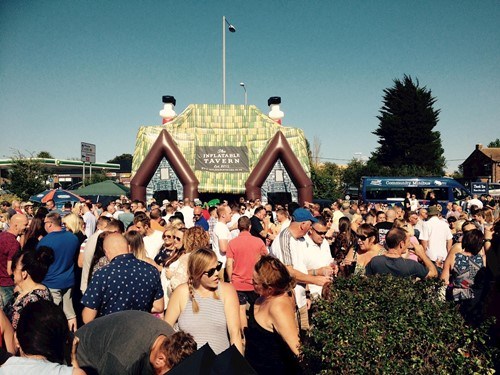 Restaurant / cafe / tea shop / catering facilities
Address
AVIATOR PUBLIC HOUSE
QUEENBOROUGH CORNER
QUEENBOROUGH ROAD
SHEERNESS
KENT
ME12 3DJ
Entry Price
FREE ENTRY, BUT DONATIONS GREATFULLY ACCEPTED.