DS:UK - Dire Straits Tribute, Brothers in '85 UK Tour
30th October 2021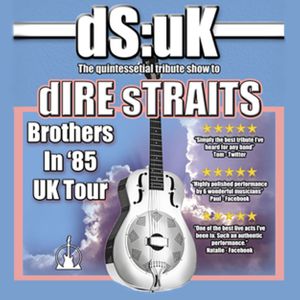 About this show
During the 80's and 90's, Dire Straits were one of the biggest music brands and concert touring bands in the world. Still today, Mark Knopfler remains one of the most beloved guitarists in modern Rock. Their biggest album, Brothers in Arms, released in 1985 still sits in the top 10 of the best selling albums in chart history. "dS:uK…in tribute to Dire Straits" began touring in 2016 and have quickly become regarded as the quintessential tribute band among Dire Straits fans with their incredible attention to musical and sonic detail. To say that "dS:uK" sound like Dire Straits is an understatement.
Their 2020 "Brothers in 85" tour pays tribute to the worldwide Brothers in Arms tour, with the band bringing fans the ultimate 1985 Dire Straits experience and all of those classic songs that you want to hear. Here comes Johnny singing oldies goldies…. it'll truly give you a shiver in the dark! Don't miss it!
Formed in 2015, dS:uK have quickly established themselves as one of the foremost touring tribute shows in the UK. As huge, lifelong, fans of Dire Straits - their attention to detail is unsurpassed, their authentic sound un-matched and their passion for Dire Straits' music is felt in every corner of the room. dS:uK's show is a show with fans firmly in mind. The band entice their fans back year after year with differing shows that hit the nostalgia bone hard. Whether it's their "Alchemy Tour" (tributing the Alchemy album), their "Brothers in 85" tour (tributing the Brothers in Arms world tour) or the "On anoTher Night" tour (tributing the final On Every Street tour) - there is always a reason to see dS:uK each year across the world.
Follow the band on Social Media @dsuktribute (Facebook, Twitter and Instagram) and subscribe their their mailing list at www.direstraitstribute.co.uk for exclusive member benefits including discounted tickets, pre-announcement show announcements and specially selected seats.
Guide Dogs, Hearing Dogs and Registered Assistance Dogs welcome
Address
The Alexander Centre
15 -17 Preston Street
Faversham
Kent
ME13 8NZ
Contact