Swale Heritage Forum & Conference - 'Swale's Identity' Our Common Heritage
6th November 2021
NOTE: This event has once again been rescheduled due to Covid 19 and the restrictions in the amount of people that can gather in one place. A new date of Saturday 6 November 2021 has been agreed and secured at The Appleyard and the 2021 event detail will be updated as soon as it is received.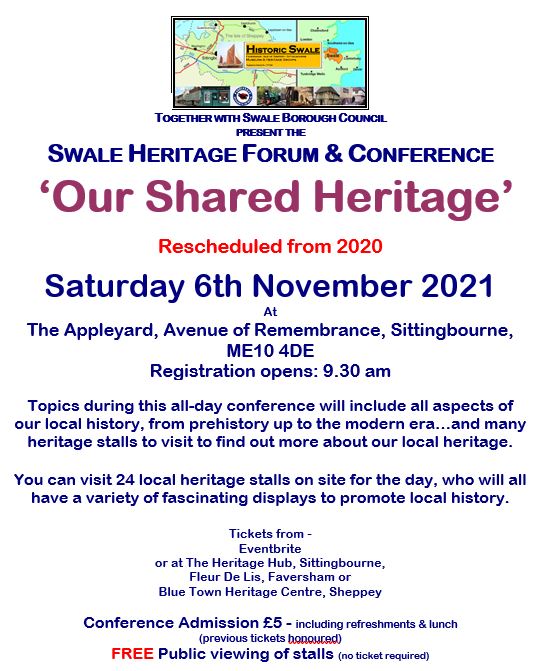 Examining aspects of Swale's fascinating past, including landscape, environment, occupation and the industries that shaped our heritage.
About this Event - Topics discussed during this all-day conference will include all aspects of our local history, from prehistory up to the present day. We will also discuss Swale Borough Council's Heritage Strategy.
There will be stalls advertising local heritage groups and organisations.
Tickets also on sale at:
The Heritage Hub, The Forum, Sittingbourne ME10 3DL
Fleur de Lis Heritage Centre, 12 Preston Street, Faversham, ME13 8N
Blue Town Heritage Centre, 69 High Street, Blue Town, Isle of Sheppey, ME12 1RW
Price includes morning and afternoon refreshments and a buffet lunch. Please email events@historicswale.org.uk if you have any special dietary requirements.
Historic Swale is a volunteer group set up as an organisation to help meet the needs of its member organisations, as identified in consultation with current members. The overall aim is to aid members to collectively promote Swale as a Tourist destination. For more information visit: https://historicswale.org.uk/
Guide Dogs, Hearing Dogs and Registered Assistance Dogs welcome
Address
The Appleyard
Avenue of Remembrance
Sittingbourne
Kent
ME10 4DE
Contact
Entry Price
£5 including refreshments and lunch
Tickets will be available via Eventbrite or purchased at The Heritage Hub in Sittingbourne, The Fleur de Lis Heritage Centre in Faversham and Blue Town Heritage Centre on the Isle of Sheppey