THE CRITERION MUSIC HALL Presents 'MUSIC HALL GREATS'
24th September - 17th October 2019
Matinees performances with curtain up at 2.30pm every Tuesday, Wednesday and Thursday includes an interval show tea.
Back in 1868 the Royal Oxford Music Hall was opened in Bluetown. It was later re-named The Criterion Music Hall. Then in June 1917 it was bombed and lay derelict. In March 2013 Music Hall was brought back to The Criterion and has enjoyed 2 successful seasons each year.
Over the years hundreds of music hall artistes performed up and down the country and sadly many acts have been forgotten forever. However, there are some artistes whose memory lives on and whose songs we still sing today! To celebrate our 2019 season we are paying tribute to some of the music hall greats including Marie Lloyd, Vesta Tilley and Harry Champion.
We are delighted that resident artiste, Jessica Pease is returning to The Criterion after her successful appearance in The Story and Music of Rodgers and Hammerstein. Jess had appeared in over 6 music hall shows at The Criterion and is also our choreographer. Jess will be joined by Amanda Swift and Scott James both having appeared in 3 music hall shows at The Criterion. Alison Parsons will be returning for her 2nd appearance having been last seen in the Autumn 2017 show. Making his debut is Matt Carpenter who will be joining the company to re-create some classic music hall songs including 'My Old Man', 'Any Old Iron' and 'If it Wasn't For The Houses In Between'.
Carol Anne Wells will be at the piano-forte bringing these classic music hall songs to life and your worthy Chairman will be encouraging plenty of audience participation!
So what are you waiting for? Book your tickets now on 01795 662981.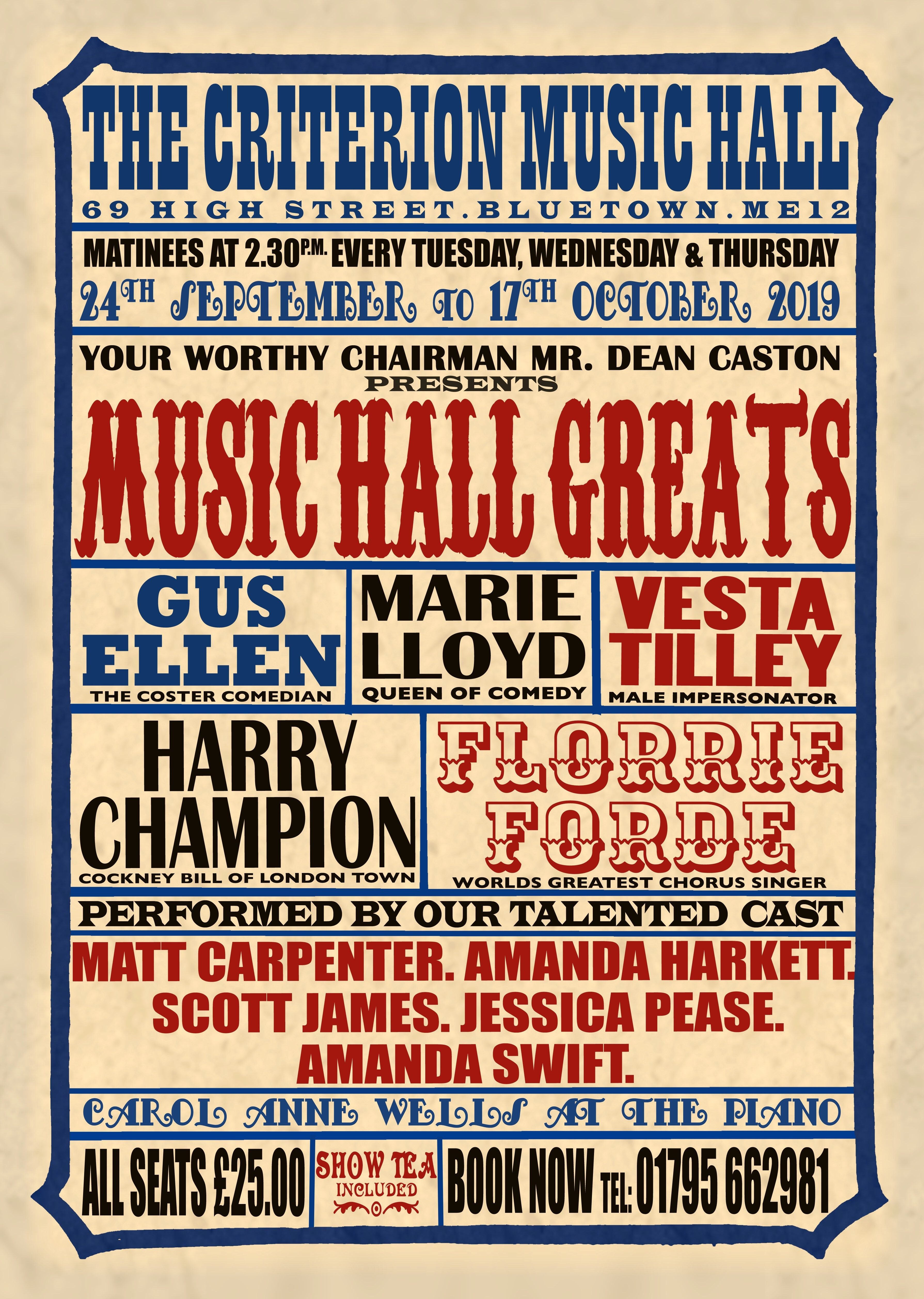 Address
69. High Street.
Blue Town.
Sheerness.
Kent.
ME12 1RW
Entry Price
£25.00 includes an interval Show Tea