The Dancing Machine - Michael Jackson Tribute Show
17th September 2020
MICHAEL JACKSON THE DANCING MACHINE Starring World's No#1 MJ Dancer and former Britain's Got Talent Star Rory Jackson.
(Officially Rated By Simon Cowell)
WATCH THIS! https://youtu.be/JuVcZ9TjdR4
To see more videos, please click this link to go on our website's Rory Jackson video page
http://www.roryj.com/videos.php
Rory Jackson has developed his 2 x 45 munute set production show to a fine art for you to truely experiance the physical, athletic embodiment and the magical showmanship of the legendary King Of Pop Michael Jackson as a (MJ Bad World Tour Concert Experiance) which has so much energy and passion behind every move he make on stage, you will feel like you are watching the man himself!

Rory's fine attention to detail, his onstage energy and Dance skill is his main selling point. There has been no Michael Jackson dance fanatic that has ever been able to equal Rory Jackson.
In 2016 Rory took to the stage, getting through to the Semi-Final,in Britain's Got Talent Series 10, this earned Rory virtual overnight fame in April 2016 when he was aired on the show catching the eyes of over Ten Million viewers around the World.
Simon Cowell said, "If I was watching that from another 100 feet away, I would have believed that was Michael Jackson"
Alesha Dixon said, "I was at the Bad Tour Concert, and you did a really good job, you should be really proud of yourself"
Stephen Mulhern also said on a radio interview and a magazine, "In 10 years of doing Britain's Got Talent" My favourite contestant has to be Rory Jackson as Michael Jackson! "He is Outstanding!"
Rory Jackson's attention to detail is what makes his show stand out from the rest. Rory is also the same height, build and weight as Michael Jackson. Standing 5ft 9 inches tall with Michael Jackson look alike hair, eyebrows and hairline, permed to precision and maintained in the BAD Era hairstyle which is 100% his own hair! This makes Rory's hairstyle the closest to Michael Jackson's head of hair out of all the other top MJ look-a-likes and tribute artists in the world, giving you the perfect look-a-like appearance. Not only that, he has MJ's stage presence and will make you feel like the man himself is there dancing before your very eyes.
http://www.roryj.com
Tickets £13.00 (£9.00 concessions - under 14's, over 60's)
Box Office:- 01795 471140
BOOK TICKETS ONLINE (takes you to online booking page - 6.5% booking fee applicable)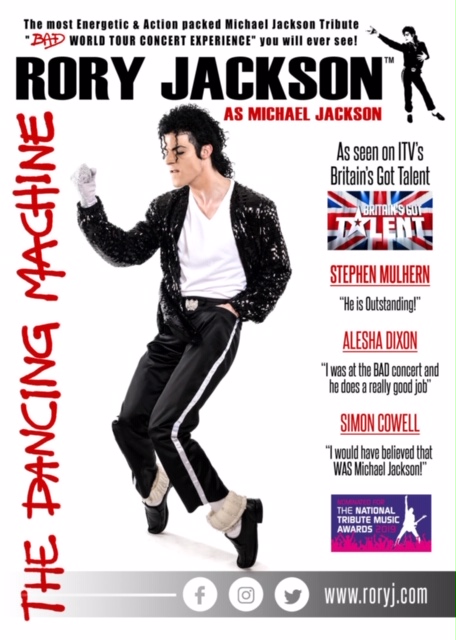 Address
Admin Office
Avenue Theatre
Central Avenue
Sittingbourne
Kent
ME10 4DN