The Story and Music of Rodgers and Hammerstein
19th March - 4th April 2019
Our 2019 Spring Show (which will include an interval tea) will pay tribute to the musical talents of Richard Rodgers and Oscar Hammerstein II who together were an influential, innovative and successful American musical theatre writing team. They created a string of popular Broadway musicals in the 1940s and 1950s, initiating what is considered the "golden age" of musical theatre and the shows still remain popular with audiences today.
Their first musical together was Oklahoma which opened in 1943 and they then went on to write more musicals including Carousel, South Pacific, The King and I and The Sound of Music. All of these musicals have some iconic songs and these will be performed by a cast of four talented singers throughout the show.
A selection of songs will be performed form their top 5 musicals including 'Surry with a Fringe on Top' and 'Kansas City' from Oklahoma; 'You'll Never Walk Alone' from Carousel; There is Nothing Like a Dame' and 'Younger Than Springtime' from South Pacific; 'Shall We Dance' and 'Hello Young Lovers' from the 'King and I' and 'Edelweiss' and 'Climb Every Mountain' from The Sound of Music.
Paul Harris (Patron of The Criterion) will act as narrator telling the story of Rodgers & Hammerstein and some interesting facts about the shows they wrote which have been performed on Broadway, London and around the world. Paul is well known to Criterion audiences as our Resident Chairman at our Music Hall shows.
Carol Anne Wells (Resident Musical Director at The Criterion) will be accompanying the performers at the piano in her usual enchanting style.
We are delighted to welcome Marilyn Hill Smith back to The Criterion. Marilyn has performed at The Royal Opera House, Covent Garden and made 104 appearances on 'Friday Night is Music Night' on BBC Radio 2. Marilyn toured for 18 months playing the part of The Mother Abbess in 'The Sound of Music' and will be performing 'Climb Every Mountain' in our show.
Jimmy Burton-Iles will delight audiences with his renditions of 'I have Dreamed' from The King and I and 'If I Loved You' from Carousel. Jimmy has appeared in several music hall shows at the Criterion and established himself as one of pantomimes leading dames.
Jessica Pease is well known to Criterion audiences for her appearances in the music hall shows which she also acts as choreographer. During the show she will sing 'I Can't Say No' from Oklahoma and the title song from 'The Sound of Music'.
Making his debut at The Criterion is Andrew Bolton. Andrew has appeared in musicals in the west End and across the UK including 'Annie get Your Gun', Oklahoma' and 'Annie' playing Daddy Warbucks. During the show Andrew will perform 'Oh What a Beautiful Morning' from Oklahoma and 'Some Enchanted Evening' from South Pacific.
This show will be a nostalgic trip down memory lane as we re-live some moments from these magical musicals, which have been delighting audiences for over 70 years.
Narrator:Paul Harris
Singers:  Marilyn Hill Smith, Jimmy Burton-IlesJessica Pease, Andrew Bolton
2.30pm Curtain Up 
Doors Open at 2pm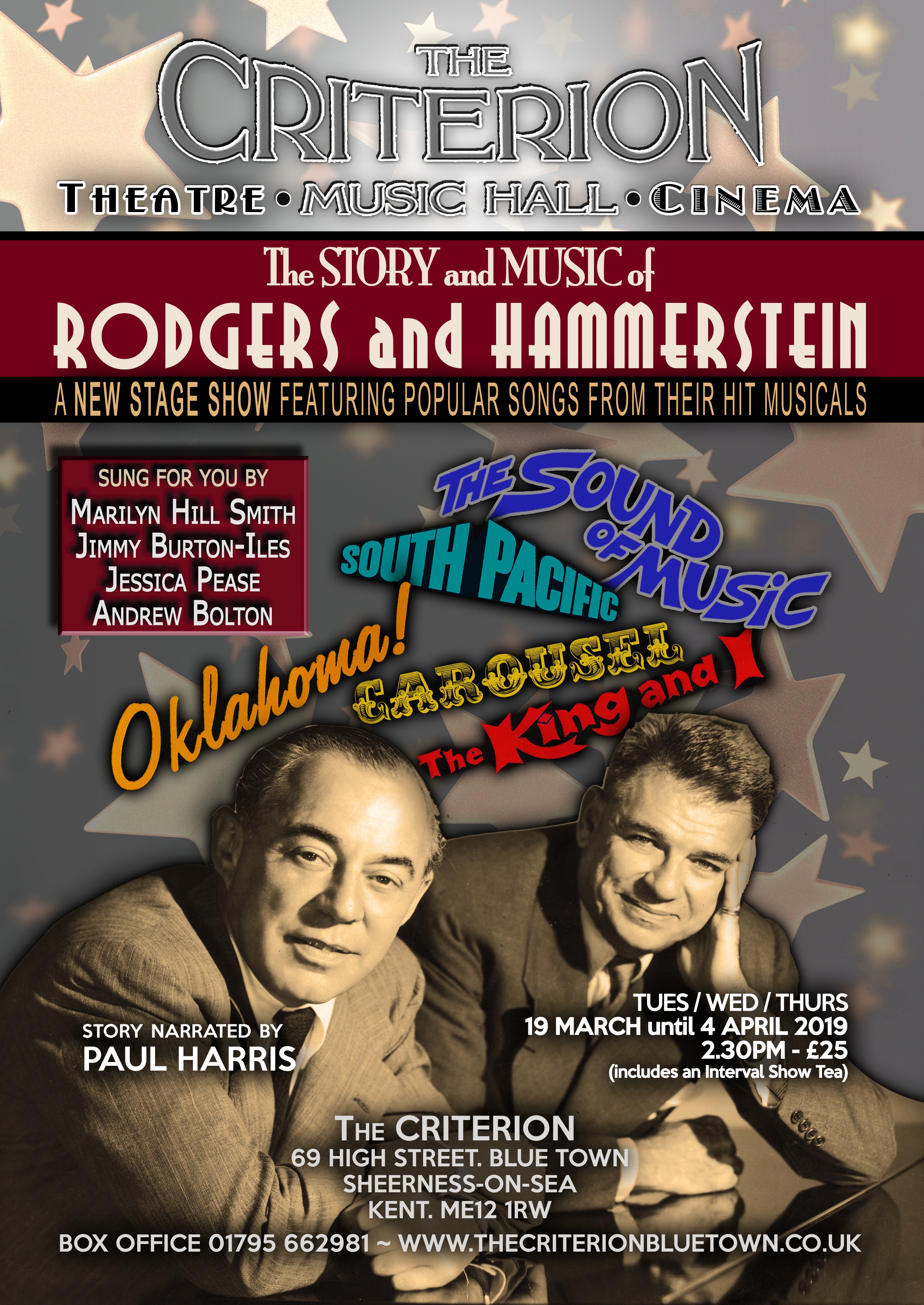 Restaurant / cafe / tea shop / catering facilities
Address
69. High Street.
Blue Town.
Sheerness.
Kent.
ME12 1RW
Entry Price
£25 (includes Interval Show Tea)
Group discounts available