Come and explore the villages in the Swale area in north Kent
Apart from the three main towns, Swale is a very rural borough, with a variety of landscapes supporting a rich abundance of wildlife. Much of the Isle of Sheppey and the northern fringes of the mainland is marshland with national and international protection status. Many of our open houses and gardens are in our countryside together with some hidden gems including the Bredgar and Wormshill Light Railway which opens on the first Sunday of every month from Easter through until October.
The Mid Kent Downs Area of Outstanding Natural Beauty skirts the southern part of the Borough and in between are pretty villages nestling amongst farmland.
Experience country crafts and treat yourself to a cream tea at Oad Street Food and Crafts, Borden just outside Sittingbourne and purchase locally produced gifts and food. 
There are some great local village pubs providing good quality food and beverages, definately worth exploring the countryside and enjoying the hospitality on offer. The Freewheel Pub and Cycling Cafe in Graveney near Faversham is an inviting pit stop for cyclists, walkers and locals to refuel. 
Swale is a place for all seasons, come and meet the great people, visit our special places and be inspired!
Some of our local parishes and villages have their own websites where more local information can be found. Here is a non-definitive website list of villages and parishes located in Swale.
A Taste of Rural Swale
Badlesmere and Leaveland are two tiny villages with a total population of just over 200. There's a pub, the Red Lion, a large village green and a pair of gems: two very small medieval churches in truly rural locations yet accessible either side of the A251 (Faversham/Ashford road). The buildings have served Christians and passing visitors as a place of worship and comfort for many years. These churches are two contrasting halves of a church community.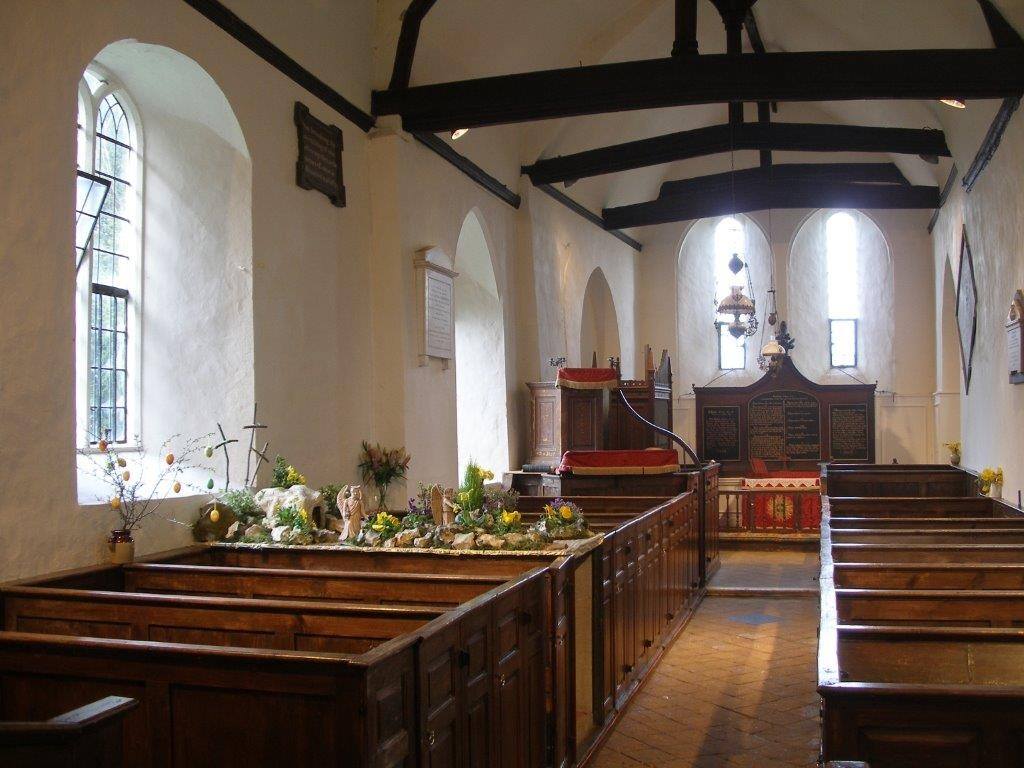 St Leonard's church, Badlesmere, (photo by M Peters) was admired by John Betjeman for its untouched 18th century box pews. It is loved for the peace it offers, its traditional services and for being a convenient stopping place for walkers as it stands at the convergence of three public rights of way.

St Lawrence's church, Leaveland, is enjoyed for the diversity of the wild flowers and wildlife in the churchyard and for the potential of the building for community and family use as well as its more modern services. When you visit Leaveland church you may even find our resident artist at work; when you visit Badlesmere church you may find you can experience deep stillness for some minutes in your busy life.
Both churches are open to visitors and are less than a mile apart by road. There is a walk leaflet available in the churches for a walk between the two, partly through woodland, using Public Rights of Way.
Filming in Rural Swale
The landscapes and countryside of rural Swale have played host to many film productions with the villages also featuring on screen. Similarly our waterways have attracted major productions with Stangate Creek welcoming Great Expectations (2012), Canterbury Tales (2003) and one for film buffs – The Long Memory (1953). During 2015 scenes were shot for 'Wonder Women' in and around the creek in Lower Halstow, the film was released in summer 2017. Belmont House and Gardens, Doddington Place Gardens and Brogdale Collections at Brogdale Farm are all ideal film locations. More information about filming in Kent can be found at the Kent Film Office website.