Elmley Nature Reserve - Swale Business Awards Finalist and Farmhouse Launch
Swale Business Awards Finalist 2019
Elmley Nature Reserve offers guests a unique overnight experience: stay in luxury and wake up in the wilderness! Based in the south of Sheppey, the business offers more than just accommodation, giving guests an extraordinary opportunity to commune with nature; as well as experiencing luxuries such as massage treatments.
The venue also offers a variety of events ranging from yoga retreats to weddings and corporate getaways. Director Georgina Fulton explained about the type of customer that would come to stay at Elmley: "Our customers are extraordinarily diverse, we have everyone from local Sheppey residents to people travelling from across the globe. Our customers could be anyone of any age; I would say that they are actually defined more by their attitudes than by demographics. We target customers who have an interest in the unique and the authentic; those who want to try new things and value genuine experiences, high quality services and have an interest in sustainability and the environment."
Elmley Nature Reserve is a 3,300-acre National Nature Reserve and the only family-owned and managed National Nature Reserve in the whole of the UK. It is also the only National Nature Reserve in the UK where you can spend the night or get married in.
Georgina and Gareth, her husband and co director, are deeply committed to the local community, and have taken a Not-For-Profit approach to ensuring that all can enjoy the Nature Reserve. She explained: "The Nature Reserve is open to the public 6 days a week. This is operated by a separate Community Interest Company, which we administer voluntarily, with a team of dedicated local volunteers. We took the decision not to make day visits to the Nature Reserve a profit-making arm of the business. This means that all the funds received for day visits go directly back to managing the Nature Reserve facilities."
Georgina and Gareth are hoping that their business will get the recognition they feels that it deserves at the 2019 Swale Business Awards: "We have always had a clear and determined vision of the experience we wanted to create and our targets for this. Having known Elmley for many years we were convinced of the incredibly special nature of the place. With our strong belief in Elmley we stuck to our vision and are incredibly proud to be welcoming high earning and influential guests from across the UK. This includes national journalists and social media influencers who then also go on to explore Sheppey and Swale. Even though Elmley covers 3,300 acres, it is amazing how many guests had no idea that the Nature Reserve existed. Overnight stays immerse guests in nature in a new way, and as we have designed the accommodation to be attractive in its own right, many of our guests had no knowledge or even no interest in UK wildlife before their visit!"
Farmhouse Launch - July 2019
Key local figures gathered for a very British Summer garden party at the launch of a lovingly restored 18th Century farmhouse opens for holiday and wedding rentals.
Guests enjoyed an afternoon of delicious canapés, including crab beignets, goats cheese and asparagus panacotta supplied by local caterer, HOME GURR'OWN. Accompanied by a glass or two of English Sparkling wine from local vineyard, Simpsons Wine Estate, whilst listening to relaxed jazz music on the lawn from local band, The Violet Jive.
Guests included leader of Swale Borough Council, Councillor Roger Truelove and Visit Kent Destination Manager, Alanna Kite, alongside key people in the local wedding world, local suppliers, those involved with the renovation of the Farmhouse and Elmley champions including Natural England Managers.
Once the guests had finished feasting on the tasty canapés they were treated to a tour of the Farmhouse.
The 18th century farmhouse, which sleeps 12, is available for hire for overnight stays including B&B from September and also houses the bridal suite for Elmley's ever-popular wedding offering.
The carefully designed and thought out space has an overwhelming feel of luxury which is accompanied by sweeping views over the reserve from nearly all of the windows. Special touches like the roll top bath in the bridal suite and the high-end kitchen make this a very inviting spot to spend time in.

The project has been in the planning for over 7 years and has been a project of passion for the Fulton/Merricks families along with the design team, which includes Dunn Architects and Francesca Rowan-Plowden Interior Designer (Battle Hall at Leeds Castle and Goodnestone Park, Kent) and the construction team from Gransdens Construction.
Georgina Fulton, owner of Elmely Nature Reserve said: "We spent a wonderful afternoon celebrating the launch of the farmhouse. It was such a joy to show of this incredible building and see it restored to welcome a new generation of guests. We can't thank those involved in the project enough."
For availability and further information please go direct to the Elmley Nature Reserve website.
Farmhouse Launch
Swale Business Awards Finalist 2019











1 / 13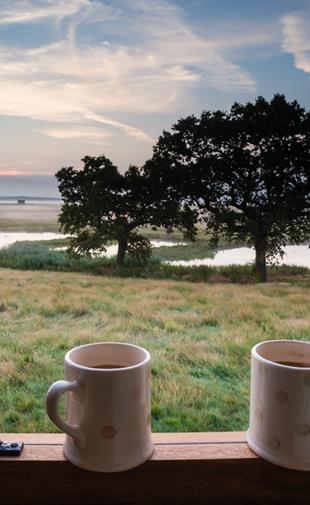 Elmley Nature Reserve Accommodation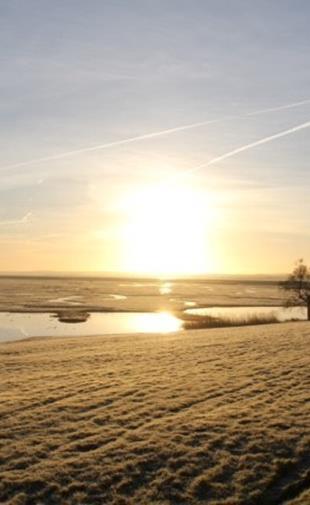 Elmley National Nature Reserve