Faversham's Medieval Street Just Waiting To Be Explored Post Lockdown
Abbey Street Faversham has been described as "probably the finest medieval street in England". It was possibly the first street in England to have its carriageway narrowed when everywhere else, since the advent of the motorcar, was having their roads widened. There are over 50 listed buildings here.
It owes its present charm to the efforts of many Faversham people to resist plans to demolish the houses and create a council housing estate. Following their successful campaign, the "Town Scheme" was started in 1961 by the local authority and The Historic Building Council. As a result, grants were made to owners of the properties to enable them to restore them. Many are listed and original features have been retained, whilst enabling updating to take place. Abbey Street, as a result of the implementation, had:
Old style street lamps installed.
Overhead cables removed.
Cobbles and setts laid, and trees planted.
Abbey Street implies that an Abbey was nearby, but where is, or was, Faversham Abbey? When was it built, and why?
It was built in 1147 for King Stephen and was intended to be a royal mausoleum for himself, his Queen, Matilda of Boulogne, and his children. Their belief in heaven and hell was similar to today, but they also believed that there was "a get out of jail card" for sinners in that you wouldn't go to hell whilst someone was praying for you daily. By building an abbey and granting it lands and rights to enable it sufficient income to survive, you could have a building full of people praying for you. King Stephen certainly needed the prayers as his life could hardly be described as godly.
His predecessor as king was Henry 1st. He had decreed that, because his son Henry had perished when the White Ship foundered, his daughter, also called Matilda but known as Maud, would be his successor. Maud and Stephen were cousins and grandchildren of William the Conqueror. On the death of Henry 1st, Maud was in France giving birth to her first child. Stephen took the opportunity of convincing the Bishop of Winchester that he would be a better monarch, arguing that the preservation of order across the kingdom took priority over his earlier oaths to support the claim of Henry's daughter. His coronation took place at Westminster in December 1135. Did the fact that the Bishop of Winchester was his brother have any bearing?
Naturally, Maud didn't take kindly to not becoming Queen of England and civil war was the result, although usually referred to as "the Anarchy". It began in 1139 and lasted intermittently until 1152. Eventually, both sides in the civil war tired of the fighting and accepted a truce, with the agreement that Henry, son of Maud, would be the next king. This was an uneasy truce as there was no expectation that Stephen would die soon. However his Queen died in 1152 and he died in 1154.
Faversham Abbey was huge. Its dimensions show that it was three-quarters today's size of Canterbury Cathedral, but probably equalled or exceeded it when built. At the time of the dissolution of the monasteries in 1438 it was not well maintained but was, nevertheless, one of the largest buildings in the land. This posed a problem for Henry VIII. Having acquired the monastic properties Henry set about their disposal, (analogous to Nationalisation and subsequent Privatisation). The trouble with Faversham Abbey was who could afford to buy it and, because of its strategic position beside the Swale and close to France, who could you trust to occupy it?
Henry's solution was to dismantle, (not demolish or destroy), the whole estate. This was done and the blocks of stone were floated down Faversham Creek and across to Calais where they were used to strengthen the defences. Calais was the only part of France remaining under English rule.
There is a tale that, during the dismantling of the site, the bodies of Stephen, Mathilda and their son Eustace were found. One thousand musket balls were made from the lead sarcophagus and their bones thrown into Faversham Creek, subsequently to be fished out by the people of Faversham and reinterred in the Parish Church. There is no evidence that Henry had any malice towards the abbey or its occupants, indeed the last Abbot received a pension of 100 Crowns per year. The abbey was located in what are now the playing fields of the QE School. If the bodies were found, they would certainly have been treated respectfully and, with the Creek several hundred yards away and the Cooks Ditch waterway adjacent to the property, it would have been there that they would have been dumped. Who would have jumped into a creek to rescue bones from someone who had died three hundred years earlier? A more logical explanation is that the catholic priests in the abbey requested the catholic (yes, still catholic), priests in the church to care for the sacred remains. Rumours are often used to cover the truth. There was no documented evidence as to what really happened but today, in St Mary of Charity Parish Church, is a grave with a plaque, dating from Victorian times, commemorating King Stephen. Is Faversham therefore the only Parish Church in the country where a monarch is buried?
St Mary of Charity Parish Church is famous for its spire. From which church in London is this one styled, and how many similar ones are there in the country? The answers can be heard on a Walking with History guided town walk.
Our Walking with History walks are mostly on flat roads and footpaths and each walk takes between 1½ to 2 hours, (you tell me how fast you walk, (and talk), and we will have a better idea). Stopping outside many old, (and new) buildings, hear the tales of monarchs, murderers, saints, (two of them lived here), and the ordinary people of Faversham. Find out why The Guildhall has a Regency upper floor built upon Tudor oak pillars. Learn about the original Queen Elizabeth Grammar School, (maybe visit its playgrounds for refreshment). The biggest church in Kent; is it the final resting place of a king?  Do not worry that we will fill your head with lots of facts, we don't have a test at the end.
These Walking with History walks are provided by the Faversham Society, starting from the Fleur De Lis Heritage Centre, 10-13 Preston Street, Faversham ME13 8NS.  Tel: 01795-534542.
These run every Saturday, post pandemic, from Easter to the end of September:               
1st Saturday of the month @ 14.00, and other Saturdays and Bank Holiday Mondays @ 10.30.
During July and August, they take place @ 10.30 and 14.00.
The cost is £5 per adult and £3 for accompanied children.
Participation in the walk entitles a free entry to the superb museum on the day and once in the subsequent year.
Full details can be found at www.favershamsociety.org  and www.favershamtownwalks.org.
Group visits can be accommodated on any day of the week. Contact details are on the website.
Article and information kindly provided by Antony Millett of the Faversham Society.
Walking with History in Faversham





1 / 5
A Walking Experience of Faversham's History and Heritage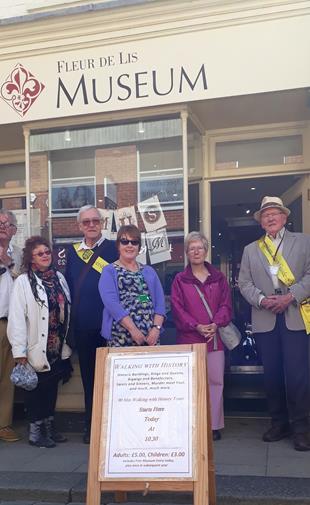 Walking with History in Faversham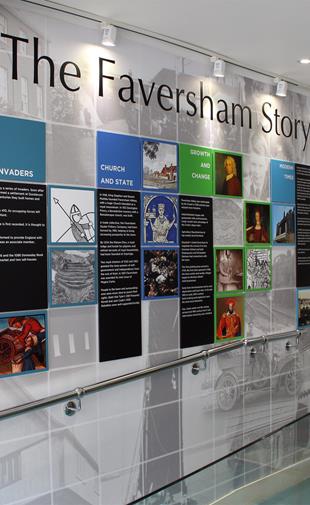 Fleur de Lis Heritage Centre Museum