Fiver Fest comes to Faversham
SPEND A FIVER AND SUPPORT FAVERSHAM BUSINESSES
An initiative giving Faversham's shoppers a wide selection of five-pound special offers is being launched this week.  Called Fiver Fest Faversham – over 60 businesses are taking part in and around Faversham.  The Fiver Fest event is a national campaign organised by community group Totally Locally and is being run in Faversham by a team of volunteers from InFaversham.
Liz Jeffery, from Shore Way Marketing is one of the volunteers behind the initiative.  She says: "The timing of Fiver Fest couldn't be better, when so many small, independent businesses are struggling due to the pandemic.  Local shoppers, visitors and residents can have great fun supporting local businesses and trying shops services they've never used before.  There's a fantastic selection of offers with something to suit everybody, from special deals on cream teas, gym membership, prescription glasses and home interiors to name just a few. Take a look at InFaversham's website for details of all the wonderful offers."
The Fiver Fest initiative has been embraced by many kinds of businesses including high street shops and services; market traders; local on-line sellers and businesses from Faversham's surrounding areas including Brogdale Farm and Standard Quay.
Fiver Fest Faversham is sponsored by Faversham's award-winning letting agent William Property Management and its managing director, Mark Greenwood, feels strongly that now more than ever people should be supporting their local economy.  He says: "Statistics from Totally Locally show that if everyone in Faversham spent just £5 extra per week with local businesses – this would put a stunning £6.4 million back into our local economy.  This would mean more local jobs, a thriving high street and an even more wonderful place to live!  We are delighted to be supporting this initiative."
To find out more about Fiver Fest Faversham, the businesses taking part and their offers – take a look at www.infaversham.co.uk or visit the Fiver Fest stall at Faversham Market on Fridays 11th and 18th June where there will also be a selection of Faversham merchandise.  Fiver Fest leaflets will also be distributed around Faversham and shoppers can collect them from Creek Creative's lobby or from Lotty's Flowers in the Market Place or No. 77 in Preston Street.
Fiver Fest Faversham is supported by Faversham Town Council and sponsored by William Property Management along with Faversham Flooring, Brogdale Farm and Standard Quay.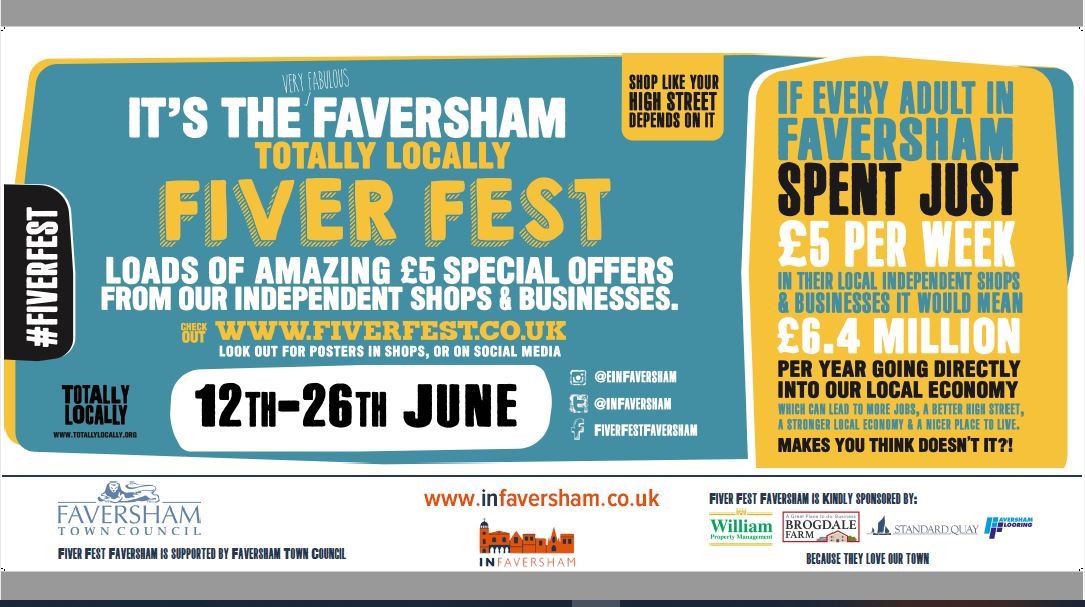 Welcome to Visit Faversham