If you've popped into any supermarket recently, you will be aware that 'Veganuary' is upon us. The month long campaign challenges consumers to remove all animal products from their diet for the month of January due to the environmental and health benefits. For example, the production of one beef burger uses as much water as 60 showers, with industrial beef farming contributing massively to both deforestation and greenhouse gas emissions. The 13 biggest diary companies in the world have the same greenhouse gas emissions as the whole of the UK, meaning changing the way we consume food is integral to combating the climate crisis.
Although surrounded by stigma, it is becoming increasingly popular, with a wealth of Vegan cafes and businesses across Faversham, Sittingbourne and Sheerness. Swale Borough Council recognises the importance of promoting vegan and vegetarian diets in its Climate and Ecological Emergency Action Plan, but also aims to support local food networks in the process. Read on to find out more about some of these businesses, including some delicious, easy recipes you can try at home.
My Lavender Kitchen
This Vegan bakery and fauxmagerie from Faversham makes everything from breads, birthday cakes, wedding cakes and cupcakes to 100% vegan cheese boards. Everything is made to order, including gluten free vegan bakes.
Owner Michelle is on a mission to help people realise that being vegan doesn't have to mean they are missing out. Have a go at making your own simple cream cheese or find out more on Facebook or Instagram.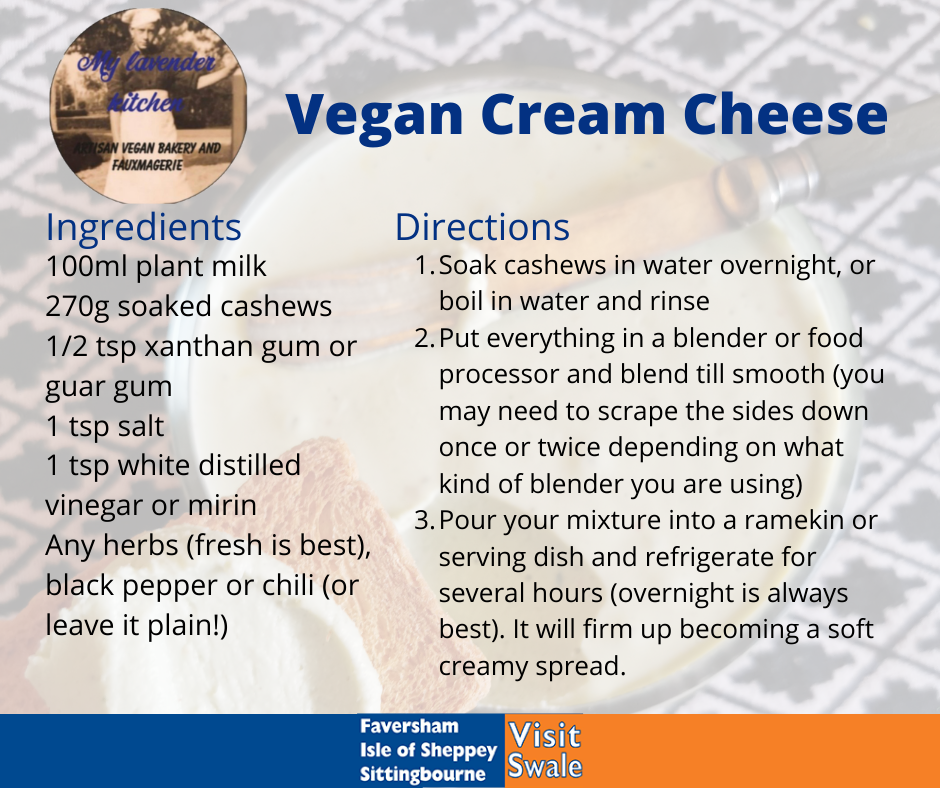 Primrose Grazing
Primrose Grazing create show stopping food for all occasions and no occasions. Specialising in vegan produce, they are passionate that no one needs to miss out on great food to live in a better world. Below is a small delicious vegan charcuterie and chocolate grazing board for the cheese and chocolate lovers.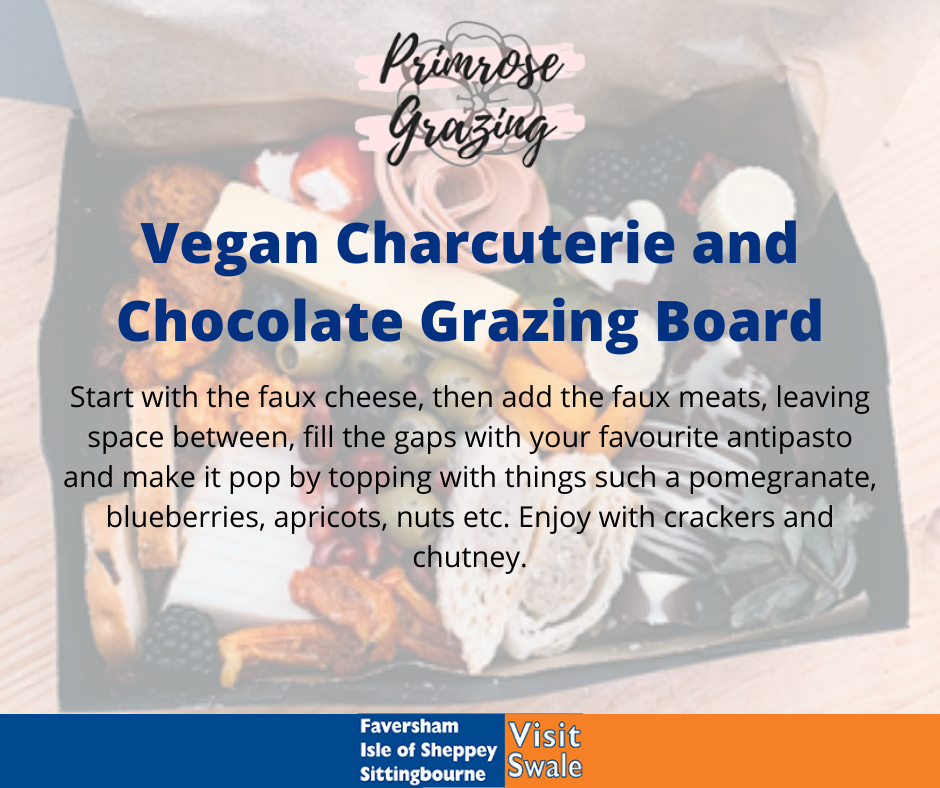 The Faversham Community Kitchen
The Abbey Physic Community Garden not only supports the needs of people with mental health issues and from disadvantaged backgrounds to re-integrate into the wider community, but also hosts the Faversham Community Kitchen. The kitchen offers support in healthy eating on a budget, including free weekly zoom cook-alongs. Find out more and access the zoom link here. Last week they made these great healthy chocolate energy balls. Most dark chocolates with over 57% cocoa are vegan, but make sure to check the ingredients.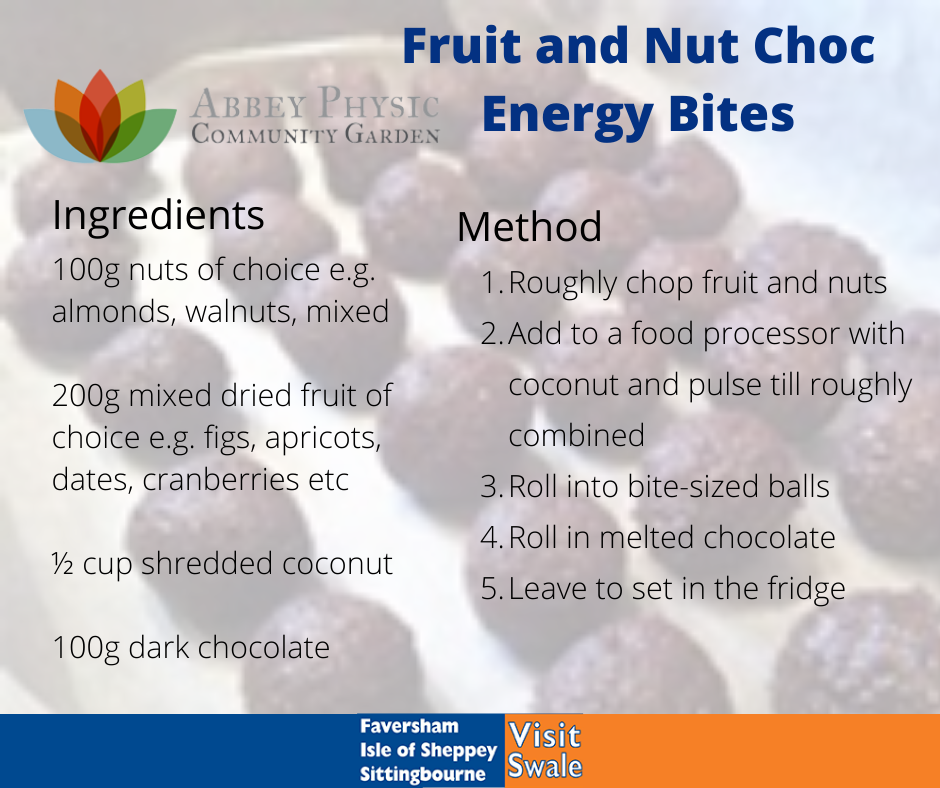 Wild Bread Bakehouse
The Wild Bread Bakehouse is a 100% plant-based sourdough bakehouse, café and shop, established in 2013 and based in Faversham in Kent. They specialise in handcrafted sourdough breads, pastries and sweet treats made using organic stoneground grains and other organic natural ingredients. They supply baked goods to a large number of shops, cafes and restaurants throughout Kent as well as trading at the Faversham Market every Friday and Saturday.
In December 2019 they took the very exciting step of opening a new bakehouse and café in Faversham, where all their bread, pastries and sweet treats are baked from scratch and available to buy under the same roof.
The café is open 5 days a week, Tuesdays to Saturdays, serving up delicious speciality coffee from Curve Roasters, organic loose leaf teas, kombucha, toasties and other savoury snacks to takeaway. They also have a small 'Bakehouse Stores' section, selling store cupboard essentials such as olive oil, flour, coffee beans, oat milk and more! All their ingredients are organic and locally sourced whenever possible and 100% plant-based and vegan.
Find them on Instagram,
Facebook, Twitter - @wildbreadhead.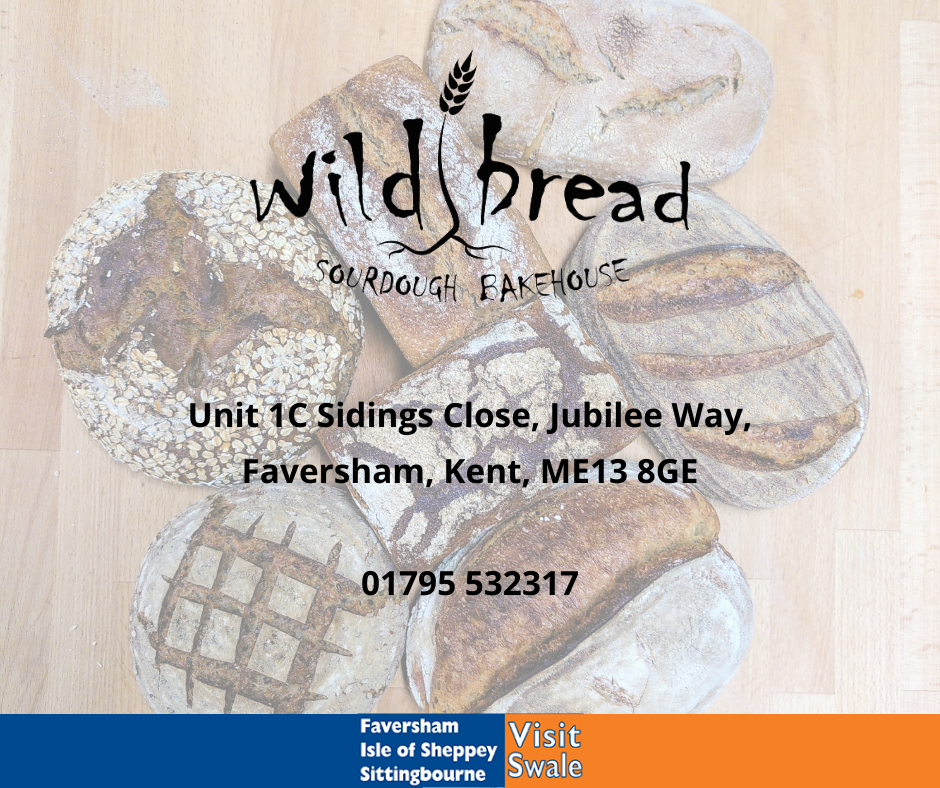 The Visit Swale team welcome this article written by Grace Couch, Swale Borough Council's Climate and Ecology Emergency Project Officer. Email: gracecouch@swale.gov.uk 
Note: Guest writers are encouraged to submit articles and supporting images to inspire residents and visitors to Swale, by emailing tourismsupport@swale.gov.uk or calling 01795 417399 should you wish to discuss this opportunity to support Swale tourism and hospitality businesses.
Food and Drink Listings