Opportunities in Swale...
There are a number of clubs and organisations providing opportunities in Swale -
Sittingbourne Tennis Club
Remember to contact the club/organisation before you attend to ask any questions you have on their activities.
Background to Tennis...
Tennis is an activity that is played with a racket and tennis ball, always on the same court size with a net in the middle but it can have either grass, clay or hardcourt surface.
It is an activity that you need an opponent and can be played in singles (1 v 1) or doubles (2 v 2). Courts can be provided for all to use for recreational play or owned by clubs where matches can be organised between members and even teams entered into local leagues.
Clubs will provide opportunities for participants to play against simlar levels of ability as well as introducing talented players to the more competive local, regional, national and internation levels. The Grand Slam tournaments are competed by well know professional players.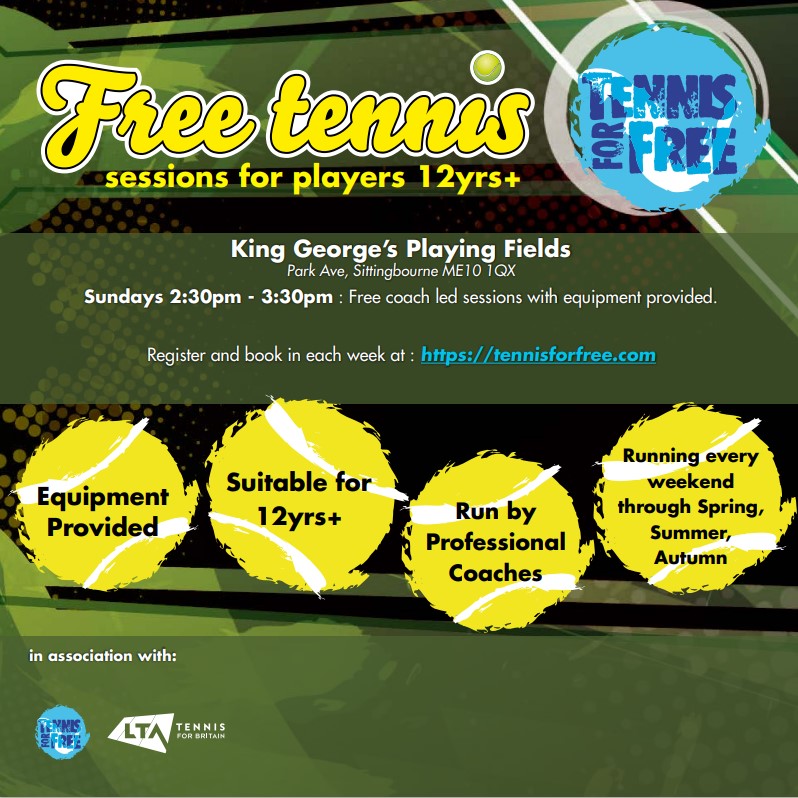 In partnership the Tennis For Free charity, the Lawn Tennis Association and Swale Borough Council are offering free Tennis coaching every Sunday between 14:30 and 15:30 (weather permitting) at the King Georges courts in Sittingbourne, sign up on the Tennis For Free website.
COVID-19
All activities offered by clubs overseen by a National Governing Body will be required to adhere to new procedures to protect participants. The Lawn Tennis Association (LTA) is working with Sport England to support providers to get back to activities.
Add your organisation
If you provide opportunities for residents or visitors to get involved in Tennis and would like your club or organisation to be listed then email Healthy and Active Swale and we can get your details uploaded.