Tourism Business Support, Insights, Advice and Engagement in Swale
Swale Borough Council is committed to developing and supporting the visitor economy and, through working with the local industry, has produced the marketing toolkit as an aid for those involved in bringing visitors to our area.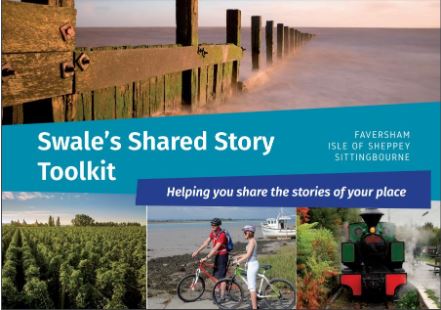 Swale itself contains three distinct destinations – Faversham, the Isle of Sheppey and Sittingbourne as well as their surrounding villages, countryside and coast – and each has its own story to tell.
Our strengths lie in our outstanding landscapes, our rich and varied heritage, festivals and events, food and drink, arts and creativity, and of course our people! These strengths make up our offer and are our greatest draw for visitors.
Visit Swale is a microsite hosted by our partners at Visit Kent Business, a great source of tourism business advice, news and guidance.
As a regional destination marketing organisation Visit Kent works closely with Visit Britain / Visit England on UK Inbound and domestic marketing of Kent's tourism offer.

Visit Britain also provides a Business Advice Hub which lists top resources as:
Join Visit Swale Authors Group - Guest Article Opportunity
Guest writers are encouraged to provide copy for feature articles on the Visit Swale website with good quality jpeg images and or You Tube video urls. Articles will be published and listed on the Visit Swale home page  and the Faversham News and Articles page of the Visit Faversham section of the website as appropriate.
Articles require:
1. A good Swale destination hook and title of public interest to visitors and residents.
2. A summary strapline of one or two sentences to be used for SEO and listing information.
3. A word count of between 500 – 900 words for interest and dwell time, with a range of links for further information as appropriate.
4. Supporting images must be in jpeg format and not PNG files with a file size of between 300KB and 5MB. Noting that at least one image must be horizontal for use as a banner image and one portrait style for a listing/summary image.
5. Images where appropriate should include people and products with all photographic permissions received from those featured agreeing for use of the image for marketing and promotional purposes. An image featuring people enjoying an experience or looking to enjoy food and drink is always much more inspiring that an empty bar or restaurant or an empty landscape.
6. Copy and images can be submitted by email to tourismsupport@swale.gov.uk with any questions and follow up calls handled on 01795 417399.
Swale Borough Council's Economic Development Team and Swale Means Business also produce a monthly economic development e-bulletin with the latest news, events, funding and business opportunities for ALL businesses based in Swale.
To sign-up for the e-bulletin please email economicdevelopment@swale.gov.uk if you would like to subscribe to receive this newsletter by email. If you wish to unsubscribe at any time, please contact us using the same address.
The team welcome contributions from businesses and support organisations about funding opportunities and events. Please email the details to economicdevelopment@swale.gov.uk if you would like your story to be considered for inclusion in a future issue.

Insights - Swale Visitor Information
This infographic summarises the volume and value of tourism and the impact of visitor expenditure on the local economy in 2019. The results are derived using the Cambridge Economic Impact Model under licence by Destination Research Ltd.
Download the full Swale Economic Impact of Tourism Report 2019