Shop Local - Be Kind - Be Patient - Be Safe
Helping high streets open safely! 
Visitors to town centres will find it easier to safely social distance as Faversham, Sittingbourne and Sheerness high streets have been temporarily pedestrianised.
New traffic restrictions have been put in place in Faversham, Sheerness and Sittingbourne to support the safe reopening of non-essential retail following lockdown.
With more shops now reopening, the Local Authority needed to make sure people can stay safe visiting our high streets. Signage and advice for businesses to help them reopen safely has been provided to make sure people can shop safely. These temporary closures, which will give pedestrians more room to safely move around and give more space for any queues outside busy shops.
In Faversham, in addition to the existing restrictions,  the following roads in Faversham will also be closed to all through traffic between 10am and 4pm Monday – Thursday:
Court Street – from the junction with Market Place to the junction with Crescent Road.
Market Place - for its entire length.
Middle Row - for its entire length.
West Street – from the junction with Market Place to a point in line with the boundary of 121 and 122 West Street
In Sheerness, the following roads will be closed to through traffic between 10am and 4pm Monday - Saturday:
High Street - From the junction with Millennium Way to the junction with Victory Street.
Broadway – From the junction with High Street to the junction with Trinity Place.
Hope St – From the junction with High Street to the junction with Hope Way
In Sittingbourne, in addition to the existing restrictions, the following roads will also be closed to through traffic between 10am and 4pm Monday - Thursday:
High Street - from the existing gate near the junction with Station Street to the junction with Central Avenue.
Swale has a blend of small independent shops with some of the High Street stores you would expect to see. The Town Centre's of Faversham, Sheerness and Sittingbourne all offer a great range of local stores as well as some top retailers. With some of our villages offering farm shops and a range of local produce.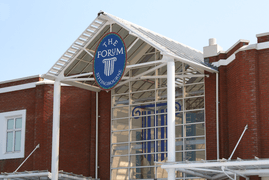 The Forum Shopping Centre - Sittingbourne image
All three Towns are Market Towns where you can not only find a bargain, but enjoy the hustle and bustle of a market place.
Faversham Markets
The  Charter Market in Faversham is the oldest in Kent and has a history going back at least 900 years. The backdrop to the market is the picturesque town where the historic buildings from old Tudor through to Georgian and later Victorian are all beautifully kept. The scene that meets you has changed so little it would still be recognised by Shakespeare, who acted here, and Queen Elizabeth I, who visited the town in 1572.
At one end of the market is Shepherd Neame's brewery, the oldest in Britain. You often smell the unique aroma of malt and hops as you browse in the market! You could try a cup of Earl Grey and a tea cake in any of the reasonably priced cafes? Or sup a pint of ale in one of Faversham's traditional pubs.
Faversham's street market is now held in the town centre around the Guildhall in Market Place and Court Street on Tuesday, Friday and Saturday, from 8.30am to 4.00pm. The market offering varies during the three days, with a variety of stalls selling household essentials, clothes, trinkets, fresh plants and flowers, fruit and vegetables; with many local food producers in evidence particularly on Saturdays.
It is only a few minutes walk from the main car park, and just five minutes from the station, too.
So if you fancy a nostalgic trip in pleasant surroundings, Faversham Market is a great place to shop. In addition to the regular markets on Tuesdays, Fridays and Saturdays the market features the' Best of Faversham' and 'Faversham Antiques & Vintage Market' on a monthly basis.
For more information including pitch bookings, then please contact the Market Manager on 07766 595287
'Find it in Faversham', with a range of businesses and services available through local traders in Faversham.
Sittingbourne Market
The market in Sittingbourne has a long and proud history, which will be enhanced by the town centre's redevelopment as it establishes itself as a new and exciting shopping destination. The market provides a range of everyday goods at sensible prices every Friday in the High Street. 
Sheerness Co-operative Market
The market is now an integral part of the local community with community groups welcome to pre-book a pitch and promote their work.Support the market and make a point of picking up the latest bargain every Tuesday and Saturday mornings in Sheerness Town Centre, on part of the Rose Street car park. 
To register for a stall at Sittingbourne or Sheerness Markets and to find out more please contact Rosalyn Prince by telephone 07867 504842 or email sheerness.market@gmail.com.  
NEW: Queenborough Harbour Market showcasing local businesses, food, drink and crafts on Queenborough Quay (creekside) on Saturdays from 10am till 3pm during the summer season.
Iwade Village Market is open from 10am to 1pm at Iwade Village Hall on every second Sunday of the month until August, then we shall open the 2nd Sunday every other month. With a great range of stalls and the market going from strength to strength why not come along if you've not been before or not been for a while, we'd love to see you. For further information for Farmers' Markets across Kent go to the Kent Farmers' Market Association website.
Local Produce Market - Teynham Village Hall, Belle Friday Close ME9 9TU - held on the first Saturday of every month from 10am - 1pm. There are details on the Teynham Village Hall Facebook page Call Laura Brown on 07716 204258 for more information or email.
Swale is home of the National Fruit Collection at Brogdale Farm and its Market Place has a good selection of shops offering fresh local produce.
Other award winning outlets include Macknade Fine Foods (as pictured below) and other traditional grocers in our Town Centre's who offer a great flavour of Swale.
Local Farm Shops
The BarnYard, Oak Lane, Sittingbourne, ME9 7EZ
Bredgar Farm Shop, Gibbens Farm, The Street, Sittingbourne, ME9 7EX
Brambledown Farm Shop, Lower Road, Sheerness, ME12 3SU
Brogdale Market Place, Brogdale Farm, Brogdale Road, Faversham, ME13 8XZ
Kent Farmers' Market Association provide information on Farmer's Markets across Kent.