Support High Street Recovery - Rediscover our Street Markets
Swale Tourism
8th September 2020
Remember the saying 'you never know how much you will miss something until it has gone'? 
Lockdown presented many challenges for local businesses and a much-overlooked community resource in our Street Markets. 
We  are extremely lucky to have welcomed back markets to our historic town centres in Faversham, Sheerness on Sea and Sittingbourne. Time to rediscover and support them and our High Streets.
Faversham Market - Mentioned in the Domesday book and located in the heart of Faversham's historic town centre, with it's stilted Guildhall, town pump and medieval buildings as a backdrop, the town is very proud of it's market and status as the oldest market in Kent.
Faversham's Charter Market runs on Tuesdays, Fridays and Saturdays every week, selling a range of local produce, household items, plants, collectibles and other interesting bits and pieces. We also have two monthly markets – Best of Faversham Arts, Crafts and Food Market on the first and third Saturday of the month in Preston Street and Faversham Antiques and Vintage Market is held in the Market Place and Court Street on the first Sunday of every month, except September.
Sheerness and Sittingbourne Markets - Sheerness market every Tuesday & Saturday in Rose Street car park. Sittingbourne market every Friday in the High Street. Both markets are managed by the same operator who strives to bring the stalls local shoppers love to see which compliment the High Street offer.
When trading opportunities started to open up under new guidance from the 15 June 2020, the street market operations were some of the first local businesses on the starting line. Supported by great weather and a loyal customer base the markets have done much to drive footfall to our town centres and to bring a level of new 'normal' to our everyday lives. That first week it was so good to wander around the markets and to hear the jovial trader banter, the noise of pitches going up, the smell of the fresh produce and the array of products that had not been seen the light of day for a good many months. Customers taking those first tentative steps out, shopping and enjoying some much needed leisure time and conversation.
More recent weeks and the continuing good weather has seen the markets continue to go from strength to strength and even our once lost visitors are visiting again to soak up the local ambience and reconnect with family and friends in local cafes, bars and restaurants too. Small steps but how good does it feel?
If you haven't visited us yet then come along to one of our regular street markets or take in a specialist market and combine it with a longer stay and enjoy the local hospitality.
Shop Local in Faversham, Sheerness and Sittingbourne Town Centres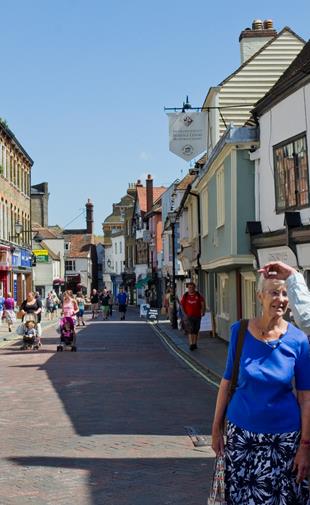 Shopping in Swale
Shop Local - Be Kind - Be Patient - Be Safe and Rediscover Swale Shops