Craft Union Pub in the Heart of Sittingbourne. One of the oldest Public Houses in Sittingbourne.
New opening times as we reopen: Sun to Thur 12noon-9pm and Fri & Sat 12noon-10pm
However, it will be a completely new norm.
Some key bits of info follows:
• There is no booking system. Instead, its first come - first serve. (Yes, you may have to queue)
• ALL crucial need-to-know information and our policies will be displayed around the entire pub. Some pubs may be doing things slightly different, but our policies are personalised for The Red Lion and from the government guidelines and regulations.
• We want as little trade at the main bar as we possibly can. So card payments are advised. Cash payments must be kept to a minimum. In return once you've been shown to your table. Everyone is strongly advised to order all drinks through the Orderpay app (just released today). Table service eyy?
• whether you're inside the pub or outside, everyone needs to remained seated whilst drinking. (Sadly no break dancing) 😬😁
• There is one way in to the pub, and one way out. Plus 1 fire exit door for emergencies.
•The toilets are working with a one in one out system. They will be closed off for a couple of minutes every 15 minutes for a sanitise.
• Please, please, please, adhere to our rules and policies. They are in place to keep everyone safe. Every member of staff will be trained and ready to serve you lovely people once more. Remember, its a new norm altogether, for everyone. So please be kind and patient with staff and other people within the pub.
• We are operating a zero-tolerance on any bad behaviour or violations against our policies.
• Opening hours:
Sunday - Thursday ~ 12:00pm - 21:00pm
Friday & Saturday ~ 12:00pm - 22:00pm
• 🔞 NO UNDER 18's 🔞 Challenge 25 still stands.
General Information
The Red Lion Public House in Sittingbourne town centre is steeped in history more than six hundred years old. Today though it offers an inviting place to meet with friends, enjoy an extensive menu, whether it is for a quiet lunch through to a special event catered to your needs, or a great place to liven up your weekends with one of the many events, discos or live music nights the pub hosts. Whatever you want from a pub, the Red Lion can offer it.
In the winter, keep warm by the large open fire. In the summer, make use of the large courtyard where the 'Shed' will take care of serving up your favourite tipple.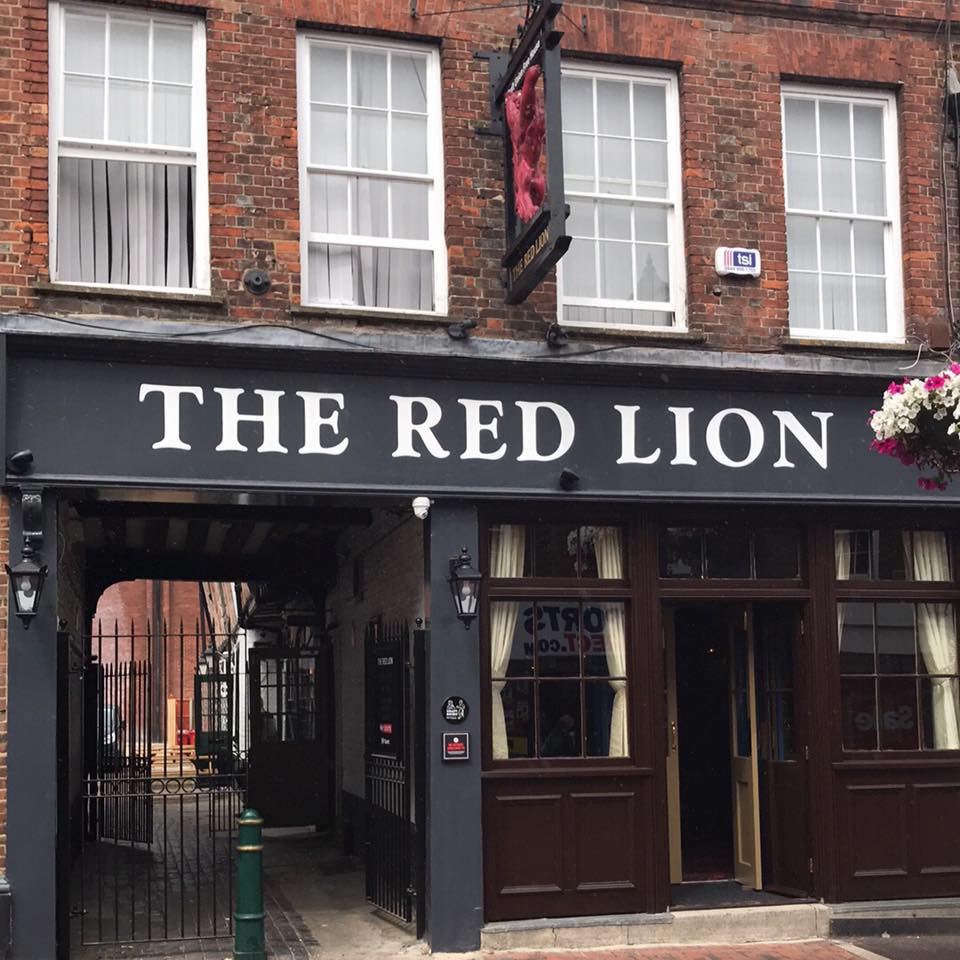 Opening Times
Sun to Thur 12noon-9pm and Fri & Sat 12noon-10pm
Address
58 High Street
Sittingbourne
Kent
ME10 4PB
Contact