Marino Fish Bar and Restaurant
Following government guidelines, we are happy to announce we have reopened our Fish restaurant.
Special measures have been put in place in order to remain covid-19 safe and to maintain social distance rules.
For now, we will be opening Monday - Saturday 12.00pm-9.30pm (last orders 8.30) and offering a limited menu.
Our restaurant has been deep cleaned and has been set out following government guidelines. Until further notice, we will not be accepting any walk ins, it will be strictly phone bookings only.
We thank you for your continuous support and look forward to welcoming you back into our restaurant next week!
Marino Fish Bar is reputed as being one of the best fish and chip shops in Kent. It is a family run business which was set up in 1966 and the trade secrets have been passed on from one generation to the next. Our restaurant offers a varied menu to suit the whole family and a large variety of fresh fish is available cooked the famous 'Marino's' way. Enjoy quality food that is made to order and take time to relax in our beautifully decorated, fully licensed restaurant.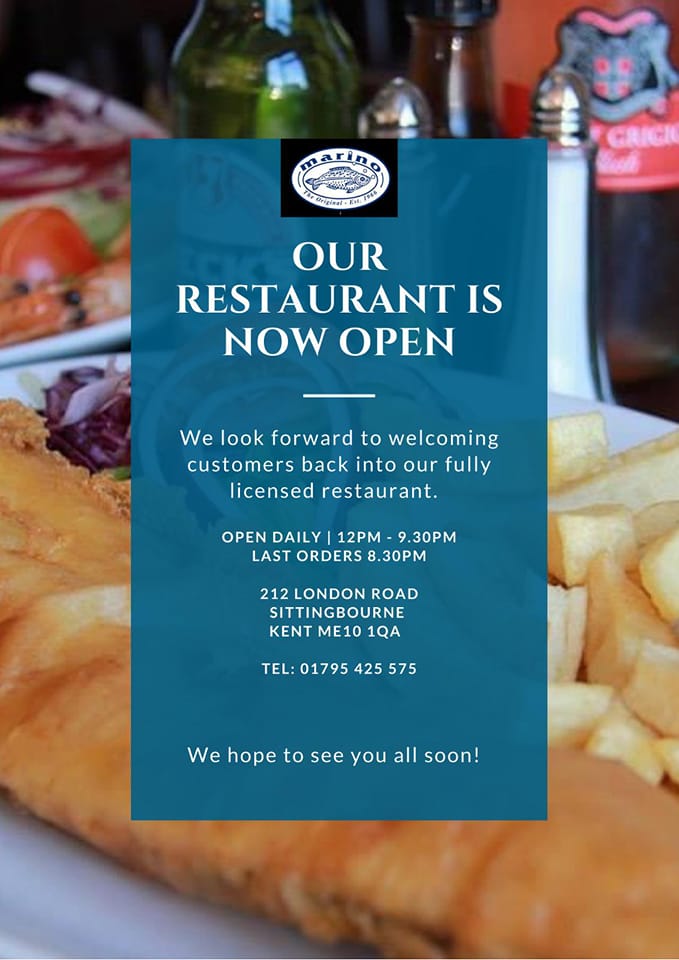 Opening Times
Monday - Saturday 12.00pm-9.30pm (last orders 8.30)
Address
212 London Road
Sittingbourne
ME10 1QA
Contact