Sheerness Clocktower Removal Update - Time Lapse Video
Sheerness Clocktower restoration update blog – 4th October 2021
Swale Borough Council has committed funding for the full restoration of the 119-year-old Sheerness Coronation Memorial Clock. The restoration will bring the clock and tower back to its former glory, in its original colours of green and gold and with the fabrication of new lanterns to match those originally installed in 1902.  
Monday 27th September 2021
Monday 27th September marked the start of the dismantling and removal of the Sheerness Clocktower, with scaffolding being erected and the clockmakers beginning the delicate task of loosening those 119-year-old bolts.
The clocktower finial and bell was carefully lowered to the ground, housing the Sheerness clocktower bell, weighing around 100kg and cast by John Taylor & Co. of Loughborough. A sheep is the registered trademark and can be seen on the bell alongside the 1902 marking.
The clock mechanism was then removed, and the clock faces loosened from the tower and lowered to the ground.

Tuesday 28th September 2021
The clocktower's trunk was loosened from its base and lifted high above the town centre, through the scaffolding and lowered to the ground. Here it was manoeuvred on to its side, rested on wooden boards, ready for transit. The afternoon brought the difficult task of loosening the bolts at the base of the clocktower, which have held it on its foundation plinth. The clockmakers job was a difficult one, however they eventually managed to free the nuts on those holding down bolts.
The finial and clock faces were carefully wrapped, ready for transit.

Wednesday 29th September 2021
Chains were attached to the inside of the clocktower's base and lifted off its holding down bolts and lowered to the ground.
Work then began to remove debris from the plinth, in the hope that we may unearth something from years gone by. Despite no time capsule, 2 glass marble stopper bottles were found (Codd bottles), embossed with 'A.J. Martin Sheerness'.  

Thursday 30th September 2021
With the Broadway closed, the flatbed HGV with flatbed trailer responsible for its transit arrived and work began to crane on the 4 pieces of the clock and tower.
At 11:57am Sheerness waved goodbye to its clocktower, as it started it's journey north to the workshop of clockmakers Smith of Derby.

Friday 1st October 2021
9.00am the clocktower arrived safely and was unloaded at the workshop of Smith of Derby.
The restoration will take around 5 months, with the clock returning home in Spring 2022.
Follow its restoration journey here, as we document details of its transformation.
Do you have a story to tell? We would love to hear your memories of Sheerness Clocktower, please contact capitalprojects@swale.gov.uk
For more about the history of the clock go to our Sheerness Coronation Memorial Clock page.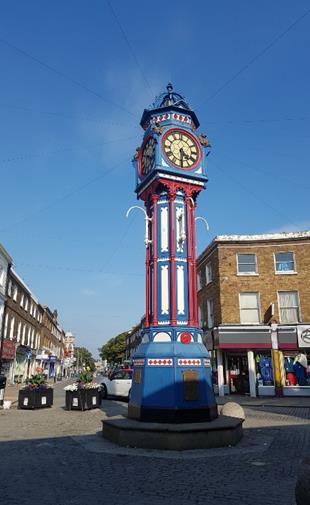 Sheerness Coronation Memorial Clock